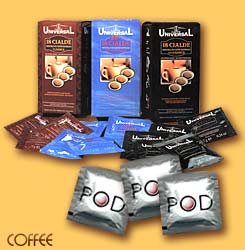 In 1640, when coffee was first introduced into Italy from the Arabic world, various schools of thoughts began to develop in the main capitals of a yet to be unified Italy. The different origins of the coffee beans and ways of toasting the fine blends create subtle nuances in the "aroma" of a good, creamy espresso. Nuances you will find in the choice of coffee pods available for our machines. Choose your favourite from:
Classica, a rich flavour blend based on traditional recipes
Classica Double for the Big Bar Duetto
Arabica, a blend to please the more exigent tastes
Pod, packed in shining silver containing 100% organically grown coffee.
Dek, a gentler decaffeinated choice, if you can't say no to just one more coffee.
Each carton contains:
100 coffee pods
100 plastic cups
100 sugar sachets
100 plastic stirrers
If you would like to order more coffee pods for your espresso bar, please fill in this form and click Submit.